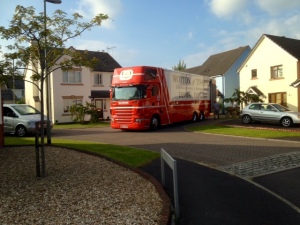 Wotton of Tiverton has been helping people to move home, not just across virtually every square foot of the UK but internationally as well. We operate a modern fleet of purpose-built removal vans, trailers and trucks and our staff are all trained to the highest of standards, ensuring that your moving experience is a happy one.
Every removal we undertake has been tailored to fit the client's requirements. In 40 years of moving we are yet to undertake a normal removal! There maybe a specialist item that requires extra care, a tricky staircase, narrow access, a huge distance or a stretch of sea to overcome. You can be assured that we will have the best solution for you and your move, wherever you find your new home.
National Removals
We have been moving people across different parts of the UK for years, so whether you are moving within the same town or from one end of the country to the other, we will ensure that your experience is made care-free – because moving day should be a happy one.
From the initial packing stage to unloading and setting up at the other end, our skilled team will be able to help at each step of the removal process. Whatever type of removal service you are looking for, Wotton of Tiverton will have everything you need.
Our services cover the entire of the United Kingdom, from Devon to London, Edinburgh to Penzance and even from the Shetland Isles to Northern Ireland.
European Removals
Moving to an entirely different country can be stressful and daunting, so whatever the reason for your move, we will make sure it is made as easy as possible. We have extensive experience moving people across Europe, and can help you through every step of the process.
Our experience and knowledge of working and operating vehicles in a number of foreign countries, both inside and outside of the EU means we understand all the different requirements of European removals. From completing customs paperwork, understanding the time frames to working with the restrictions and the obligations required by operators of heavy good vehicles employed on international work, we can handle all the technicalities of moving your possessions abroad.